ASCII Art Studio (Freeware)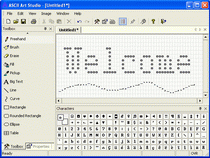 ASCII Art Studio is a powerful ASCII Art editor. It allows you to make your own ASCII Art quickly and easily.
You can use this tool to make cool Email signatures, as well as add creative text graphics to plain text documents.
Key Features
Support text editing and graphics editing.
Intelligent freehand drawing.
Create Big Text using any installed fonts.
Convert between pictures and ASCII Art.
Print ASCII Art.
View ANSI ASCII Art.
Easy used characters panel.
Flip and Rotate selection.
Multiple undo and redo.
Shell integration.
System Requirements
Windows 2000 (Service Pack 4)
Windows XP (32-bit and 64-bit)
Windows 2003 (32-bit and 64-bit)
Windows Vista (32-bit and 64-bit)
Windows 2008 (32-bit and 64-bit)
Windows 7 (32-bit and 64-bit)
Windows 8 (32-bit and 64-bit)
Windows 10 (32-bit and 64-bit)